News: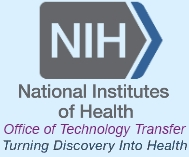 Jul. 16, 2014
NIH Technology Transfer Workshop
"Innovation in the Life Sciences and Technology Transfer Workshop", which is supported by United States National Institutes of Health (NIH), was held on 16-18 July 2014 at Ankara Bilkent Hotel. Founder of GIS Fusion, M. Taner AKTAS, participated for 3 days in this event and talked to Dr. Luis A. SALICRUP from U.S. National Cancer Institute (NCI) and Steven M. FERGUSON from the NIH Office of Technology Transfer (OTT) towards development of international technology transfer collaboration, and making use of the opportunities provided by the U.S. research support, grants and education programs.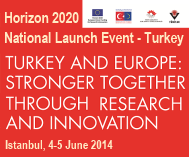 Jun. 04, 2014
HORIZON 2020 National Launch Event
National Launch Event of Turkey for European Union's HORIZON 2020 Programme, was held on 4-5 June 2014 at Hilton Istanbul Bosphorus Hotel. Keynote addresses were given by Fikri ISIK, Turkish Minister of Science, Technology & Industry, Ahmet YUCEL, Interim Undersecretary of Ministry of EU Affairs, Prof. Dr. Yucel ALTUNBASAK, the President of TUBITAK, and by Robert-Jan SMITS, Director General of DG Research and Innovation on behalf of the European Commission.

Founder of GIS Fusion, M. Taner AKTAS, participated on both days of Turkey's HORIZON 2020 National Launch Event in Istanbul, and he met and talked to European Commission (EC) Members Kostas GLINOS, Alan CROSS, Carmen MADRIGAL JIMENEZand Samuel MAENHOUT from the DG Research and Innovation; Kaisa HELLEVUO from the Research Executive Agency (REA); Ales FIALA, and Tom Bo CLAUSEN from the DG Communications Networks Content and Technology; and Prof. Eva KONDOROSI from the European Research Council (ERC).
Jan. 24, 2014
We've Reached 100,000 Members
We are celebrating a milestone after our LinkedIn group, HORIZON 2020 reached 100,000 members from around the world in a short period of time and became the largest R&D and INNOVATION group on LinkedIn and elsewhere. Big thanks to everyone who showed great interest. Please continue to follow us, our news, our events, our announcements, and our work.

We invite you to follow us on social media. You can start following our company and our founder, one of the most connected people in the world, M. Taner AKTAS by clicking the links below:

Twitter : http://twitter.com/gisfusion

Twitter: http://twitter.com/mtaktas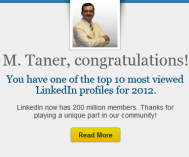 Feb. 12, 2013
Top 10 Most Viewed LinkedIn Profiles
Have you ever wondered who are the top 10 most viewed profiles on LinkedIn? According to LinkedIn.com, our founder M. Taner AKTAS has the 7th most viewed LinkedIn profile out of 200+ million in the world.

All top 10 in the list are in the USA, except our founder, who used to live in the United States, but now lives in Turkey. M. Taner AKTAS is also one of the most connected people on LinkedIn. He is a super connector and master networker with his 30,000+ first degree connections on LinkedIn. In addition, he has another 10,000+ pending connection invites, he continuously receives, waiting to be accepted in his inbox.

The Top 10 List of the Most Viewed Profiles on Linkedin: 1) Barack Obama: Current President of the United States of America.
2) Wayne Breitbarth: Bestselling author, trainer and speaker on using LinkedIn
3) Reid Hoffman: Co-founder of LinkedIn
4) JD Gershbein: Expert on Social Branding for LinkedIn Profiles
5) Jeff Weiner: CEO at LinkedIn
6) Tim O'Reilly: Adviser at Code for America
7) M. Taner Aktas: Founder of GIS Fusion, One of the top connected people on LinkedIn
8) Mike O'Neill: Speaker and Corporate B2B LinkedIn Sales Trainer
9) Viveka von Rosen: Author of Wiley's "LinkedIn Marketing: Hour a Day"
10) Greig Wells: JobSearch Sites
(source: Peter Palme)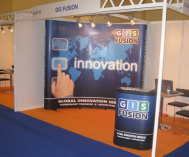 Nov. 01, 2012
Innovation Turkey Expo
We participated to the Innovation Expo, which was held for the first time in Turkey, with an exhibition stand that truly stands out from the crowd. World-renowned innovation guru Prof. Lord Kumar BHATTACHARYYA and the Minister of Science, Technology and Industry Nihat ERGUN officially opened the Innovation Turkey Expo, which was held in Istanbul on 01-04 November 2012. Just after the keynote address Lord Kumar BHATTACHARYYA and the founder of GIS Fusion M. Taner AKTAS met and talked to each other about innovation.

GIS Fusion stand attracted great interest from visitors & exhibitors during the expo where exclusive samples of technological and innovative inventions, created and patented in Turkey, were exhibited. Visitors of our booth had the chance to receive detailed information about our technology transfer and innovation services from our founder M. Taner AKTAS. Out of 9,826 people who visited the expo, about 1000 of them had taken commemorative pictures in front of our exhibition stand, shared the pictures in the social media, and as seen in the Orucoglu Middle School example, they posted them to their own corporate web sites.



Jun. 23, 2012
INSPIRE Conference - Innovation Workshop
Organized by European Commission's Joint Research Centre (JRC), the INSPIRE Conference 2012, which had a theme of "Sharing Environmental Information, Sharing Innovation", took place in Istanbul on 23-27 June 2012. At this international event, founder of GIS Fusion M. Taner AKTAS conducted a pre-conference workshop which took about 2 hours.

There was a high demand among the conference participants for this workshop, which had a title of "Innovation and Future Trends in Geospatial Technologies". More than 50 professionals from all over Europe and beyond participated to this workshop and expressed their gratitude afterwards.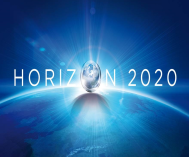 Jan. 01, 2011
R&D and Innovation Platform
Founder of GIS Fusion, M. Taner AKTAS, formed a LinkedIn group, HORIZON 2020, which is focused on global funding opportunities and grants related to research and innovation in order to build a global business collaboration platform which provides excellent networking opportunities and to develop collaborative R&D projects.

This group has 20 sub-topics covering all research areas such as Energy, Health, Defence, BioTechnology, NanoTechnology, Agriculture, Transportation, Environment, Space, Information and Communication Technologies (ICT) and can be characterized as an International R&D and Innovation Platform. The aim of this group is to provide excellent networking opportunities for its members in everything from idea to market and everything in between (from business plan to start-up, from research to development to implementation, from prototype to product, from invention to patents and valorisation, from business incubation to acceleration, and from commercialization and technology transfer activities).
Events
GIS Forum MENA 2014

Middle East's leading conference on Geographic Information Systems, the "GIS Forum MENA" will be held this year in Abu Dhabi on 8-9 September 2014.

GIS Fusion is happy to be a media sponsor for this conference which has a main theme of "Successfully delivering GIS projects that maximise efficiencies in resource management and in the development planning".

AGRI Future Days 2014

The leading conference that discuss the future of agriculture "Agri Future Days" will be held this year in Villach, Austria on 15-18 June 2014.


GIS Fusion is happy to be a media sponsor for this conference which has a main theme of "ICT's Improving Family Farming".

WebIT Congress 2012

The only global event for the digital, technology, telco and entrepreneurial ecosystems in the emerging EMEA markets, the WebIT Congress, will be held in Istanbul on 10-11 October 2012.


GIS Fusion is happy to be a media sponsor for this conference which has special focussed sessions on mobile marketing, telecom, entrepreneurship, technology, social media, e-marketing, advertising and e-commerce.